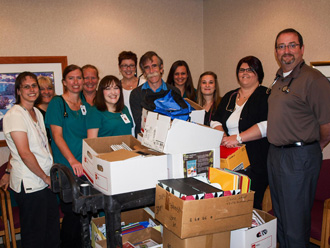 School Supply Drive
During the month of August, Premier Healthcare held a school supply drive at each of its locations. This resulted in over 400 pounds of school supplies donated to The Teachers Warehouse in Bloomington. The Teachers Warehouse provides free school supplies to teachers in Monroe and Owen county. This allows for teachers to access supplies that they would otherwise have had to purchase with their own money, or to provide supplies for a student who may not have all that he or she needs to be successful and actively participate in the classroom.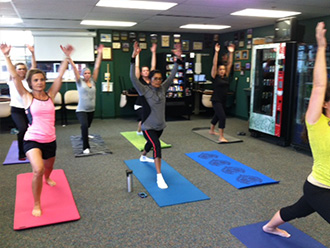 Free "Introduction to Yoga" classes
Premier Healthcare is addressing Stress Management in September and as part of that initiative have offered FREE 'Introduction to Yoga' classes at the workplace. This class, taught by certified instructor, Jennifer Bailey RN, is appropriate for beginners as well as more experienced practitioners. Yoga provides relaxation and attention to self through the focus on breathing, as well as gentle stretching and core body strengthening with traditional poses. Partnered with Stress Management education sessions throughout the month, Premier Healthcare is emphasizing mental as well as physical health for their employees.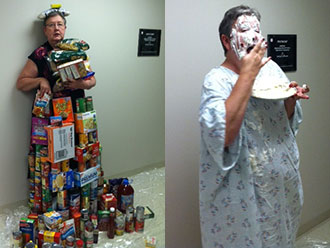 Food Drive
As part of its focus on Community Health, Premier Healthcare had a food drive in June to support the Hoosier Hills Food Bank. To encourage participation, Becky Joest, COO provided a challenge. Any department within Premier Healthcare that could donate enough food to 'wall her in' would be able to give her a pie in the face. The Bloomington Endoscopy Center took this to heart and donated A LOT of food! In total, Premier Healthcare raised 412 pounds of food. As leaders in the health provider community, Premier Healthcare understands and demonstrates that the health of the community is vital to the health of any organization.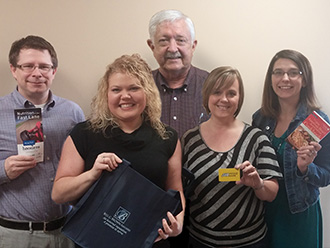 5 on 5 Healthy Eating Challenge
Premier Healthcare employees participated in a '5 on 5 Healthy Eating Challenge' in March. Employees split into teams of five, chose creative names, and then started eating healthy and earning points. Participants received points for healthy eating activities. Weekly team points were reported and the team who had the most points that week got a healthy snack as a reward. The overall winning team was '5 Peas In A Pod', shown here. Premier Healthcare incentivizes their employees' participation in health and wellness activities through payroll contributions for meeting certain levels of achievement throughout the year.